Access Control

Systems

Solutions
Adtech Systems has designed and installed many Access Control Systems, with some of them currently in use at international airports, aerospace facilities, apartment complexes, and weapon ranges. Whether it is a simple solution, or a complex one, we can design the right system to meet your needs and provide training and on-going support.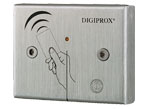 We have installed CDVI Access Control Systems for many years. This system can integrate with many CCTV systems and provide for a diverse range of applications; parking management and postal box pickup, just to name a few features.
It is possible have controlled elevators, building heating, lights, doors and much more with this versatile system. In one case we programmed a controller to manage access to restriced airside areas.
Contact Adtech Systems at support@myadtech.com to meet with a professional to discuss your needs, all at no cost to you!